Remembrance Day Services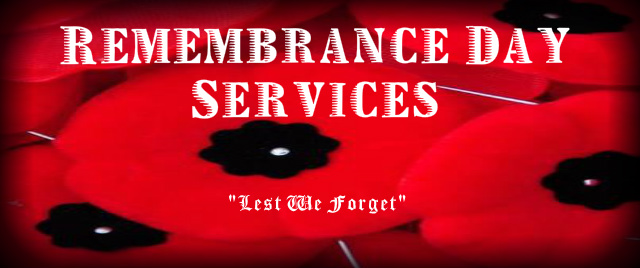 OLDS
The Royal Canadian Legion, Branch # 105 Community Remembrance Day Ceremony will be held on Sunday, November 11 at the Olds Jr/Sr High School Gymnasium (Ralph Klein Center). Doors open at 9:30am. Parking will be limited, strongly encouraged to car pool. Ceremony at Cenotaph to follow. Legion will be open after ceremonies. Beef on a bun will be available for $5.00 per person. Reminder: Children are welcome after 3:00pm.
INNISFAIL
The Innisfail Legion's annual Remembrance Day Memorial Service will begin at 9:45 am in the auditorium on November 11th. As in previous years, there will be a video relay to the Club Room for those that are unable to be accommodated in the auditorium. At around 10:45 am, community members are invited to assemble at the Cenotaph for a wreath laying ceremony and a two-minute silence at 11:00 am. Sandwiches and refreshments will be served at the Legion thereafter.
DIDSBURY
Take time to remember - the 3025 Didsbury RCACC (Didsbury Army Cadets) are inviting the community to its annual Remembrance Day ceremony on Sunday, November 11th.

Lest We Forget Services take place at Zion Church in Didsbury. Doors open at 10 am and everyone is asked to be seated by 10:15. The Colour Party will enter at 10:30 a.m. and the service follows the singing of "O Canada".

Following the Remembrance Day Service in Didsbury, everyone is invited to the Didsbury Elks Hall for a lunch of soup and sandwiches (until 1:30 pm). The Elks Hall is located downtown at 1914 - 20 Street.
CARSTAIRS
Remembrance day services in Carstairs will be held on Sunday November11th at the Hugh Sutherland School. The service will start at 10am.
CREMONA
The Remembrance day service in CREMONA - will be held on Sunday November 11th at 10:30 am at the Cremona Community Hall, 302 Centre St. After the service,
lunch will be served at the Cremona Legion Branch 172 following the service.
SUNDRE
The Remembrance day Service in Sundre is Sunday November 11th. It starts at 10:45 at River Valley School.