THE SECOND SEASON
The NHL's Post-Season begins tonight and for the 1st time in a long time I really have no idea what to expect in almost all of the Playoff Matchups. Thanks to Gary Bettman's "New" NHL

(see: Post-Lockout)

the team to team parity is truly something to behold. Even the people (TSN, SportsNet, Ect) who get paid to have the most educated guess seemed to be lacking confidence in their Post Season Preview Shows this year as compared to years prior. For the most part the pundits and pros went with the favorites (if you can call them that) in their predictions for essentially every series. I did not. Which is why I wanted to share a different opinion ahead of tonight's Playoff Puckdrop.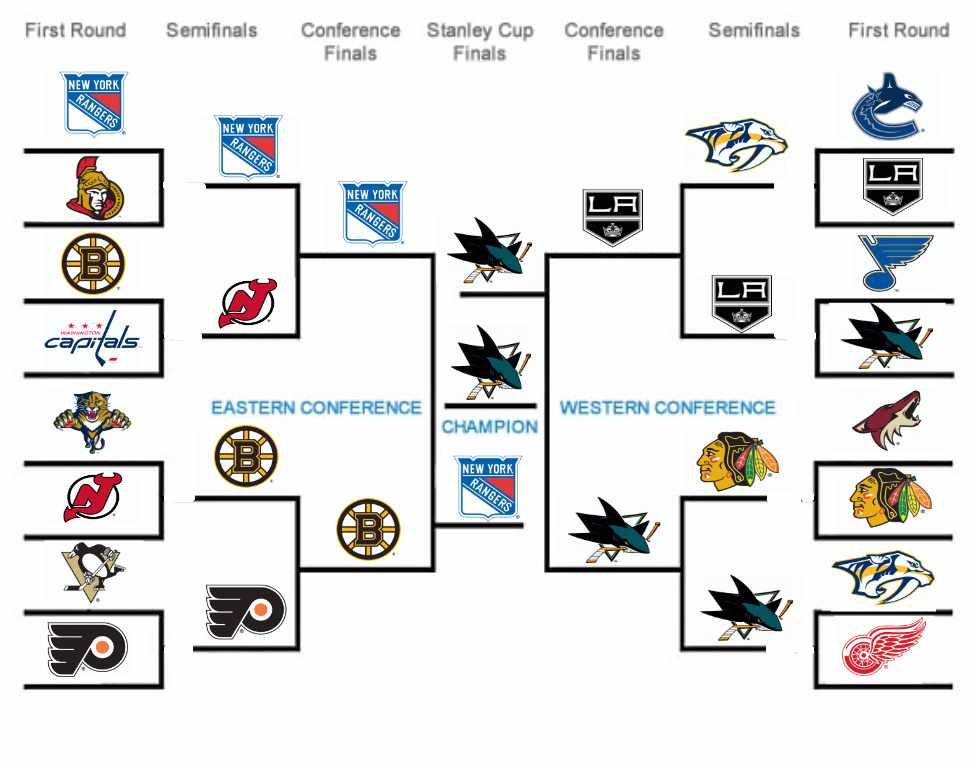 (My 2012 Bracket)
ROUND 1 REASONING'S
WESTERN CONFERENCE
L.A. Kings Upsets Vancouver:
Yes, I personally don't like the Canucks as an organization. Let's get it out of the way right off the hop, but, I do have hockey related reasoning behind my prediction. One, when the series begins tonight the Canucks will be without Daniel Sedin who's suffering from Post-Concussion Issues and if we've learned one thing about Concussions its that we've got no-way of knowing for sure when a player will be healthy enough to come back. Daniel is team's top scorer and without him his twin brother Henrik does not play as well. If the Kings can win tonight without Daniel in the line up and steal home ice...look out upset. Second, the Kings are a playoff hockey team. They've been playing playoff hockey all year. Most of their games were decided by a single goal and they've been grinding out wins all year including down the stretch where the pressure of missing the playoffs was a very real thing.



San Jose Upsets St.Louis:

Battle tested. One team is and one team isn't. The St.Louis Blues, though their regular season was fantastic, are not playoff battle tested. The Blues are back to the playoffs for the first time since 2009 and are looking for their first playoff win since 2004. The Sharks are a good time who fell from grace in the regular season and after several years of being a "Cup Favorite" and not living up to expectations, I'm interested to see how they fare when everybody is counting them out.



Chicago Over Phoenix:

This isn't an upset despite the fact the 'Yotes finished higher in the West Standings. The Blackhawks are too deep and experienced for a Phoenix team that relies heavily on mistake free, defensive Hockey.
Nashville Over Detroit:

The toughest series to predict by far. The Preds took a huge step last year advancing past the 1st round for the 1st time in franchise history and return a good chunk of that roster this season. Plus with additions like NHLer turned KHLer turned NHLer Radulov and proven winner Gill on D, I like their chances this season. Plus, as good as Detroit has looked at times this season, they've also looked really bad during at times.
ROUND 1 REASONING'S
EASTERN CONFERENCE
New York Over Sens:

The Sens are on the verge of being a very good team again, thanks in large part to the play of Karlsson on D. But on the verge doesn't mean this year.



Boston Over Washington:

This could go either way. I really believe that. It all depends on how Rookie Goaltender Braden Holtby fares for the Caps as they await their regular netminders to return to health. Fact: Tim Thomas had more wins in last year's post-season than all Holtby has in his NHL and WHL Career combined.



New Jersey Over Florida:

I would love to see Florida win the Cup if only to repay their "fans" for years of futility and because I'm a fan of Dale Tallon and believe this along with his work in Chicago cement him as one of the best GMs in the NHL. BUT! That's not going to happen. The Panthers rely way to much on their Power Play and if New Jersey can keep it at 5 a side this should be a short series.



Flyers Over Pens:

2 Words - Max Talbot. Dude's a post-season beast who'll be the most motivated player on the ice. He loved the Pens and they didn't feel he was worth what he was asking for during this past off-season despite his gutsy performances in the playoffs (1 Cup, 1 Runner-Up)...SO, he went to the team the Pens hate the most and not by accident. He'll be a difference maker. Take it the Bank.