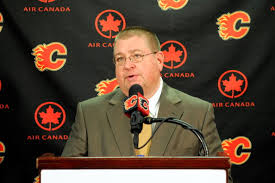 Galen Hartviksen (@van_galen) and I have often had

conversations

about just how much Calgary Flames General Manager Jay Feaster uses the term 'Conversation' when addressing the media. But it wasn't until a recent

conversation

with Galen about a

conversation

that Feaster had with the local media that I realized just how ridiculously repetitive this tendency was.

In fact, Galen recently made light of Feaster's

Conversational

Crutch '

Conversation

' in a recent tweet:

It is in the spirit of that tweet and our ensuing

Conversation

that I present to you, the J-Feast/Elvis "A Little Less Conversation" Remix ... Enjoy.