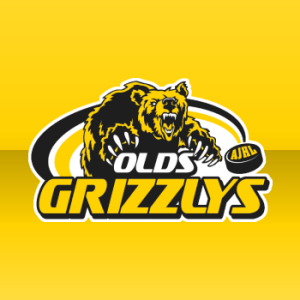 Brandon Thiessen was back from injury and able to start in net for the first time this season, however the Grizzlys suffered their 4th loss in 5 nights as they dropped a 3-2 decision in Okotoks on Tuesday.
Without 2 of their top 6 forwards in the line-up, the Olds Grizzlys powerplay stalled last night in Okotoks.
The Black & Gold went 0 for 7 with the man advantage as part of a 3-2 loss versus the Oilers.
Both Bart Moran & Brandon Clowes were forced to sit out the game due to suspension.
The good news for Olds was that projected number one goaltender Brandon Thiessen returned from injury to make his first start of the year.
Thiessen looked confident and healthy as he stopped 24 of the 27 Oilers shots.

Sean Davies & Spencer Dorowicz scored for the Grizzlys in last night's defeat.
The OGs have now lost 4 in a row - their record has dipped to 5 and 9.
This Friday Olds takes the long bus ride up to Fort McMurray.
Here's post-game reaction from Brandon Thiessen.
Around the AJHL on Tuesday...
The Oil Barons shut out Bonnyville 5 to nothing, and Camrose beat the Calgary Mustangs 4-1.