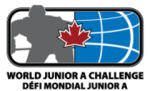 7 AJHLers help their team claim gold in Langley, B.C.
Team Canada West won the World Junior 'A' Challenge championship for 2011 by defeating Team Canada East 4-2 in the final.
Sam Jardine of the Camrose Kodiaks & Rhett Holland from the Okotoks Oilers were among the AJHLers on the gold medal winning squad.
It is the 3rd time Team Canada West has won the gold.
Here is the Hockey Canada website link for a recap of the final game...
http://www.hockeycanada.ca/index.php/ci_id/75138/la_id/1/game_id/174280/season_id/174212/ss_id/170420/
Here is the link for the full Team Canada West roster...
http://www.hockeycanada.ca/index.php/ci_id/75137/la_id/1/season_id/174212/profile_id/174226/team_id/80789/ss_id/170420/