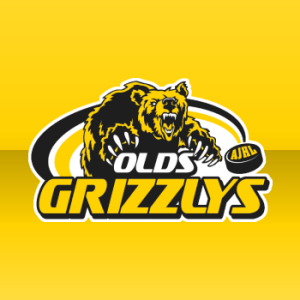 Mitch Deacon hopes his skating ability as well as his big body presence will allow him to drive the net and impress fans at the SportsComplex when Olds begins a 4 game homestand tomorrow.
Newly aquired forward Mitch Deacon will have his first opportunity to suit up for the Olds Grizzlys Thursday when the Calgary Mustangs come to town.
The 6'3, 195 pounder was brought in last week from the Coquitlam Express in the deal that sent Taylor Bourne to the BCHL.
He scored 7 goals with 0 assists & 10 penalty minutes in 22 games last year during his rookie season in the BC junior league.
Deacon is from Port Moody, BC and lists Joe Thornton as one of the NHLers he tries to models his game after.
Here is what Mitch Deacon had to say following the OGs practice on Monday at the SportsComplex.
Last night in the AJHL...Taylor Graham scored the overtime winner as the Calgary Canucks defeated the Calgary Mustangs 3-2.
Okotoks dumped Drumheller 5-1.
And, Spruce Grove won in St. Albert 6-3.