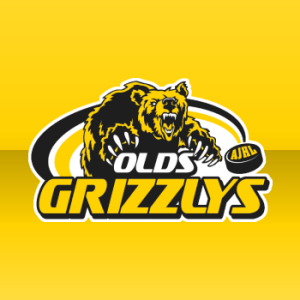 The Olds Grizzlys have won 4 of their last 5 following Wednesday\'s victory over the Canucks in Calgary.
Brandon Clowes was the overtime hero as the Olds Grizzlys won last night at the Max Bell Centre.
Clowes' second goal of the game allowed the Black & Gold to get past the Calgary Canucks 5-4.
The game was tied 1-1 following the first period, and 4-4 at the 2nd intermission.

Rookie forward Tanner Sather scored his first AJHL goal for Olds in the victory.
Tanner Dunkle & Taylor Bourne also scored, while Adam Weersink made 35 saves in net.
Here is post-game audio with Tanner Sather.
Tonight the Grizzlys host the Camrose Kodiaks.
Puck drop at the SportsComplex is set for 7:30.
Around the AJHL on Wednesday...
Spruce Grove edged Drayton Valley 5-4.
Bonnyville got by Sherwood Park 4-3.
And, St. Albert upset Lloydminster 5-2.