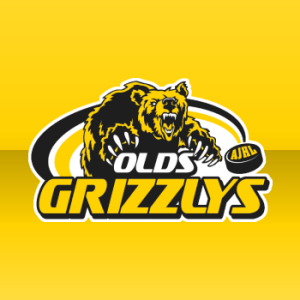 The Grizzlys suffered an 8-2 defeat at the hands of the Calgary Mustangs on Thursday, before falling 4-2 to the Brooks Bandits on Saturday.
Thursday's kick off to the homestand against the Mustangs was a close one until the final few minutes of the 2nd period.
Bart Moran & Spencer Dorowicz had helped the OGs rally from a pair of 1 goal deficits, but Calgary piled in 3 quick ones before the 2nd intermission to take a 5-2 advantage to the lockeroom.
In the 3rd the Mustangs tacked on 3 more to make the final 8-2.
Saturday night Olds was hoping to rebound versus the number one team in the south the Brooks Bandits.
A quick start for the Bandits saw them jump out to a 3 to nothing first period lead.
However, in the second powerplay goals by Tanner Sather & Brodie Clowes pulled the Grizzlys to within one.
For Sather it was his 2nd goal of the year, while it was Clowes' first in the AJHL.
A backbreaking goal with 7 seconds remaining in the 2nd allowed Mark Reners to cap off his hatty for the Bandits (Reners leads the AJHL with 20 goals in 21 games this season).
Brooks would hold on for a 4-2 victory.
The Grizzlys will host the Bandits again on Tuesday as the homestand continues.
If you can't make it down to the rink 96.5 CKFM will have live play-by-play coverage starting at 7:30.
Here is post-game reaction from Saturday with Grizzlys rookie forward Tanner Sather.