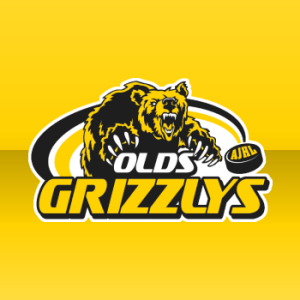 Didsbury\'s Brayden Hopfe backstops the Camrose Kodiaks to a victory in Olds, hear from him as well as Grizzlys newcomer Hunter Stewart.
A shut-out performance by Didsbury's Brayden Hopfe allowed the Camrose Kodiaks to complete a sweep of their home and home series with the Olds Grizzlys.
Saturday the Kodiaks won 5-4 in Camrose, last night Hopfe turned aside 33 shots to help his team win again 2 to nothing in Olds.
The 20 year old Hopfe talks about what its been like to switch sides in the rivalry after being traded away by the Grizzlys last season - and how he sees his role changing for the Kodiaks after serving primarly as the back-up to Dalyn Flett last year.

Last night's game was the 2nd in Black & Gold for new arrival Hunter Stewart.
The 17 year old forward from Calgary talks about how he ended up playing in Olds this year.

Stewart skated on a line for the Grizzlys with Tanner Sather & Jared Jerome on Tuesday.
Olds heads to Spruce Grove for the AJHL showcase weekend tomorrow to face off against Sherwood Park at 3:30pm.
Tonight there are 2 games in the AJHL...
The Brooks Bandits visit the Mustangs in Calgary, and the Drumheller Dragons go to Sherwood Park.