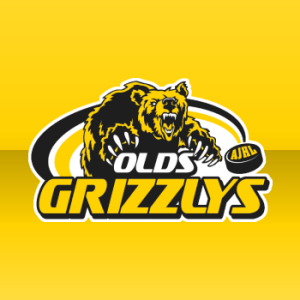 Olds trailed Camrose 1 to nothing late in the third, but with the goalie out for an extra attacker Dylan Hubbs scored to tie it up. The Kodiaks went on to win the game 2-1 in a shoot-out.
A 3 game in 3 night stretch this week saw the Olds Grizzlys gather up 5 of a possible 6 points.
Last night at the SportsComplex the Black & Gold dropped a 2-1 decision to Camrose in a shoot-out.
Brandon Thiessen made a total of 33 saves for Olds.
Didsbury's Brayden Hopfe backstopped the Kodiaks to victory by turning aside 27 shots - he then stopped 2 of the 3 Grizzlys to go in the shoot-out.
Here is post-game audio with Head Coach Kevin Willison.