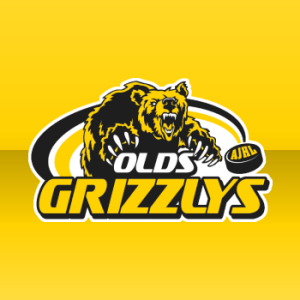 A 3-2 victory over the Calgary Canucks at the SportsComplex on Friday night put an end to more than a month of frustration for the Grizzlys. A 12 game winless slump was stopped and in the process Brett Hopfe earned his first win as an AJHL Head Coach.
What does the first win since October 26th sound like? Listen to the Game In A Minute.




This one started out the same way as the last 14 games have, with Olds surrendering the first goal of the game. However, a timely tally by Tanner Dunkle with just 9 seconds remaining in the opening period allowed the Grizzlys to head to the intermission down 2-1. In the 2nd Chris Stachiw's powerplay goal tied the game at 2. Bart Moran would score the game winning goal moments after a power play ended with only 14 seconds left in the 2nd stanza. Olds would hang on to win 3-2 thanks to at least 24 saves from goalie Jesse Ehnisz as well as a heroic final 10 seconds of effort from Bart Moran. Moran killed the clock by protecting the puck in his skates while without a stick in the Calgary zone. The Black & Gold will try to make it back to back wins tomorrow night in Spruce Grove.

Post-victory reaction from the game's 1st star forward Bart Moran.




Comments from goaltender Jesse Ehnisz after his first win as a member of the Black & Gold.




More post-game audio with Brett Hopfe following his first win as an AJHL Head Coach.