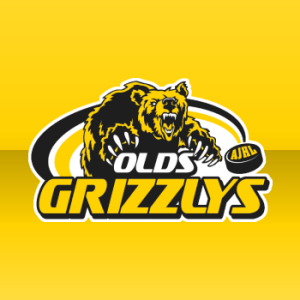 Local hockey action this weekend saw the Olds Grizzlys win 6-1 in St. Albert on Friday before suffering a 7-4 defeat in Grand Prairie on Saturday.
The Olds Grizzlys won one, and lost one on their weekend road trip.
Defenseman Craig Gans led the way offensively for the Black & Gold with a pair of goals in Friday's 6-1 thrashing of the St. Albert Steel - Bart Moran & Tanner Dunkle both had a goal and an assist in that one.
Then on Saturday, Taylor Bourne dented the twine twice and added an assist but it wasn't enough as Olds fell 7-4 to the Storm in Grand Prairie.
The Grizzlys carry a 7 and 12 record into tomorrow's game in Hanna versus the Drumheller Dragons.

96.5 CKFM will have live coverage of Wednesday's road game from the Max Bell Arena in Calgary when Olds takes on the Canucks.

Sunday's AJHL scoreboard saw...
Fort Mac defeat Lloydminster 5-2.
It was Brooks 7 St. Albert 3.
And, Sherwood Park beat the Calgary Canucks 7-2.