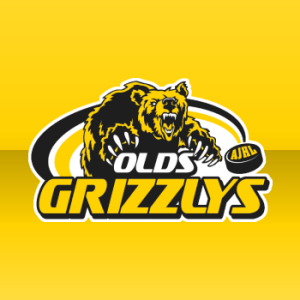 Although they are in the midst of an 8 game winless slump, the Black & Gold battled the Spruce Grove Saints right down to the final buzzer on Tuesday. The Saints won 3-2 thanks to a last second save from goaltender Joel Miller.

A solid special teams performance allowed the Olds Grizzlys to stay close to one of the top teams in the nation last night.

Forward Tanner Dunkle scored both goals for Olds on the powerplay as the Black & Gold dropped a 3-2 decision to the Spruce Grove Saints.

The Grizzlys went 2 for 3 on the man advantage versus the Saints - who have the number 1 penalty killing unit in the AJHL - while Olds' PK was 5 for 5 against Spruce Grove's 5th ranked powerplay.

The Saints were 2nd behind the MHL's Woodstock Slammers in the November 20th CJHL top 20 rankings - the other AJHL clubs included were Fort McMurray (4th) & Brooks (17th).


A pair of new arrivals also played key roles. 18 year old forward Ty Morgan's fight with Dustin Beairsto of the Saints early in the 2nd period seemed to spark the team with Olds scoring twice to tie the game at 2 just a few minutes later.


In net 20 year old Jesse Ehnisz had an impressive home debut. Spruce Grove had a pair of 2 on 1 opportunities in the first 5 minutes of the game, but the Unity, Saskatchewan product calmly shut the door both times. He made 35 saves in total on the night.


Both Morgan & Ehnisz were aquired in last week's trade that sent Brandon Sloan to the SJHL's Melfort Mustangs.

Brady Goebel's first AJHL goal with less than a minute left in the 2nd period stood up as the winner for the Saints.


In the third period the Grizzlys battled hard to try and even the score despite a depleted bench. Dylan Hubbs was ejected for a hit from behind at the end of the 2nd period. Injuries sustained by Captain Clay Howe & veteran blueliner Chris Stachiw earlier in the game prevented them from playing in the 3rd.

Tomorrow the OGs will host the Calgary Mustangs.


Here is post-game reaction from Grizzlys forwad Tanner Dunkle.




And here is reaction afterwards from Grizzlys Head Coach Kevin Willison.