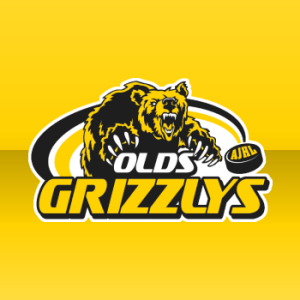 The Grizzlys have brought in a pair of players - including a veteran goalie - by trading Brandon Sloan to the SJHL.
Earlier today Olds' AJHL club sent the 17 year old Sloan to the Melfort Mustangs.
Over the course of the past 2 years with the Grizzlys, the Medicine Hat product contributed 14 goals, 18 points and 60 penalty minutes in 77 games.
The departure of Sloan results in the arrival of goaltender Jesse Ehnisz & 18 year old forward Ty Morgan.
Born in Unity, Saskatchewan, the 6'2" 180 pound Ehnisz had 10 wins with a 2.47 goals against average and a .913 save percentage last year in 20 games with the Mustangs.
This season he has 2 wins a 3.50 GAA and a .899 SV% - he was the SJHL's goaltender of the week at the beginning of November (1-1 1.86 GAA .940 SV%).
According to www.hockeydb.com Ehnisz also suited up for one WHL game with the Moose Jaw Warriors during 2008/2009.
In a press release Grizzlys Head Coach Kevin Willison stated 'last season in Melfort the Mustangs made a run for the championship and Jesse was a big part of it. He should add some real big depth between the pipes.'
Morgan is a 6'1" 180 pound right hand shooting centre who played for the Calgary AAA Buffaloes last season.
In 23 games during his rookie campaign for Melfort the Calgary born Morgan has 0 goals, 3 assists and 61 penalty minutes.
Here is what Head Coach Kevin Willison had to say following Thursday's trade.