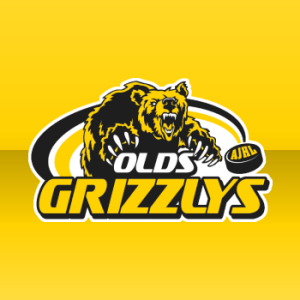 The Grizzlys are in the win column for the first time this month following Tuesday\'s 4-1 triumph over the Calgary Mustangs at the SportsComplex.
Jordan Kanscal netted a pair of goals to help the Olds Grizzlys end a couple of significant winless droughts on Tuesday.
It was Olds' first win in 7 games this month, and it was the first time in 11 tries that the Grizzlys have beaten the Mustangs.
Kanscal's 2nd and 3rd goals of the year opened the scoring in the 2nd period.
Tanner Dunkle also scored, and Taylor Bourne capped the victory with an empty net goal.
Brandon Thiessen made 18 saves to earn his first win of the year in net for Olds.
The Grizzlys head north again this weekend - they'll visit St. Albert on Friday, and Grand Prairie on Saturday.
Here's post-game reaction from OGs forward Jordan Kanscal.
More post-game audio with Head Coach Kevin Willison.
Around the AJHL last night...
Brooks demolished Drumheller 7 to nothing.
The Calgary Canucks hammered the Canmore Eagles 8-4.
And, Bonnyville skated by Lloydminster 2-1 in a shoot-out.