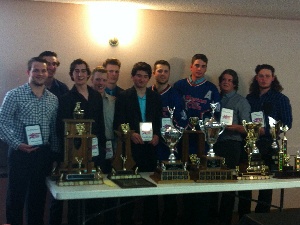 The award winners bask in their hardware.
The Mountain View Colts celebrated the best season in franchise history on Saturday with the team's annual awards banquet in Didsbury.
It was a night of celebration in Didsbury as the Mountain View Colts looked back on the 2015-2016 season and handed out some end of the season hardware at the same time. The team accomplished more than any other Colts team, winning the franchise's first Heritage Junior Hockey League championship. Team MVP honours went to the two netminders, Jake Carlson and Thomas Della Siega. Afterwards, Della Siega spread the love to his teammates after his big win.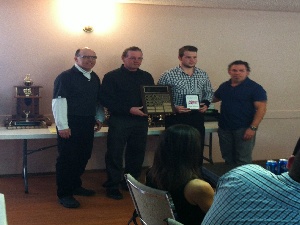 Colton Anderson collects his award as the team's leading scorer.
The team also took the time to thank four graduating players who will be leaving the program. Those include Jacob Vander Zaag, Nicholas Miluch, Dennis Lawrence and Clinton Armitage. Armitage looked back fondly on his time with the team and the legacy the four grads are leaving.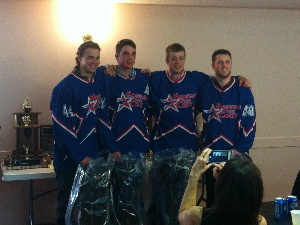 Jacob Vander Zaag, Dennis Lawrence, Nicholas Miluch and Clinton Armitage were each presented with jerseys as their time with the Colts comes to and end.
Other award winners included Keaton Perigny (Heart & Hustle), Armitage and Lawrence (Best Defenseman), Mitch Visser (Rookie of the Year, Fan's Choice), Reed Engman (Most Improved), Tyson Schmidt and Austin Pedersen (Coach's Award).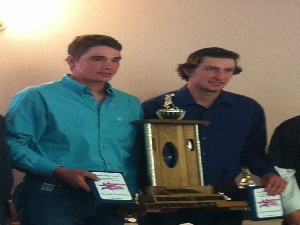 Dennis Lawrence and Cole Sutherland share the Leadership Award for their contributions in the locker room.
Captain Cole Sutherland shared the Leadership Award with graduating defenseman Dennis Lawrence. The veteran forward says it's a season that will always be remembered.
The Colts set a franchise record in 2015-2016 with 27 wins and took home the first league title in team history.