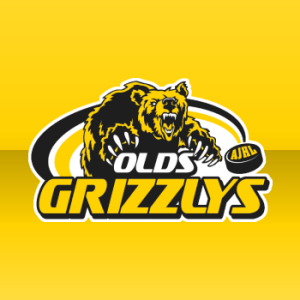 Casey Rogers moved to Canada from California 5 years ago to attend the Banff Hockey Academy. Now the 20 year old defenseman is wearing Black & Gold again following a trade to Olds\' AJHL club.

California product Casey Rogers was aquired last week by the Olds Grizzlys in the deal that sent local d-man Craig Gans to Okotoks.

Rogers was paired with Chris Stachiw during his first game for the Black & Gold on Friday - and dished out an assist on Stachiw's 3rd period powerplay goal.

The 6'1 191 pound 20 year old defenseman referred to "moving the puck out of the zone, and making a good first pass to the forwards" as his strengths..

Rogers listed winning as his number one priority during his final season of AJHL eligibility.

He has a total of 6 assists in 21 career games in the league with Brooks, Okotoks & Olds.

During the 2010-2011 campaign for the SJHL's Kindersley Klippers Rogers posted 1 goal 4 points and 26 penalty minutes in 32 games - he started this season with the Klippers and recorded 2 goals & 2 assists in 3 games before being traded to Okotoks on September 23rd for Troy Gedny..


After the Grizzlys practice on Monday, Casey Rogers took time to answer a few questions.


All 16 AJHL teams were idle on Monday, tonight there are 3 games around the league including Spruce Grove at St. Albert, the Calgary Canucks visiting the Calgary Mustangs, and the Drumheller Dragons going to Okotoks to face off against the Oilers.