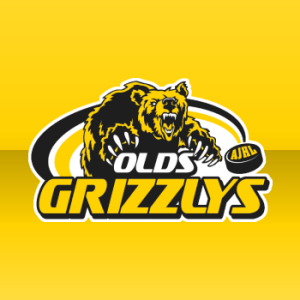 Mark Reners netted his AJHL leading 21st goal of the season as his Bandits stole another 2 points from the Grizzlys. Brooks followed up Saturday\'s 4-2 win at the SportsComplex with a 4-1 victory in Olds last night.
Lucas Grundy had the lone goal for the Grizzlys in Tuesday's defeat.
It was the 2nd time in 4 days that the Bandits picked up a win in Olds.
Grizzlys Head Coach Kevin Willison felt his team took too many selfish penalties.
The Bandits went 2 for 11 with the man advantage, while Olds was 0 for 3 on the PP.
Brooks was assessed 18 minutes in penalties - the Black & Gold racked up 57 PIMs.
The loss spoiled one of the best outings of the year for Grizzlys goalie Brandon Thiessen who looked very solid as he stopped 42 of the 46 shots the Bandits directed at his net.
An 8 game point streak for Olds forward Bart Moran also came to an end.

The Grizzlys are now winless in 5 games and 0 for 3 on their current homestand.
It will conclude Friday when Drayton Valley comes to town.
Here is post-game reaction from Head Coach Kevin Willison.
Around the AJHL on Tuesday...
Drayton Valley thumped Grand Prairie 7-3.
Okotoks won 4-1 in Calgary over the Canucks.
It was Fort Mac 5 St. Albert 1.
And the Calgary Mustangs defeated Camrose 5-1.