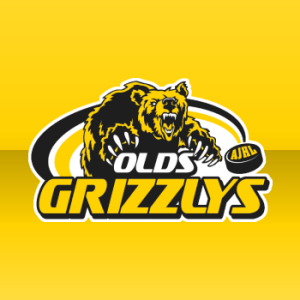 The Grizzlys have won 2 in a row for the first time since late October following a 2 to nothing triumph over the Bonnyville Pontiacs on Thursday at the SportsComplex.
Jesse Ehnisz made 27 saves to backstop the Black & Gold to a 2-0 home win. It is the first shut out of the year for the Grizzlys and it came as a result of a solid team defensive performance. The line of Ty Morgan, Chase Paylor & Tanner Sather was particularly dominant physically.

Brandon Clowes opened the scoring about midway through the first period for Olds, while Paylor added some insurance with a great individual effort early in the 2nd. Clowes hadn't scored since returning from injury on December 3rd - his last goal was the OT winner in Calgary October 26th. Paylor netted one in his first game with the Grizzlys November 4th against Okotoks but hadn't dented the twine since then.

The victory comes on the heels of Tuesday's 4-3 overtime win in Okotoks. The OGs have won back to back games 4 times this year (the last time was October 25th 5-3 vs Drumheller in Hanna & October 26th 5-4 in OT vs the Canucks in Calgary). They have not won 3 in a row all year. Saturday they'll try to make that happen when Lloydminster visits the SportsComplex at 8pm.

Here is the Game In A Minute.




Post-game reaction from forward Ty Morgan.




Reaction afterwards from forward Brandon Clowes.




A conversation following the win with Head Coach Brett Hopfe.