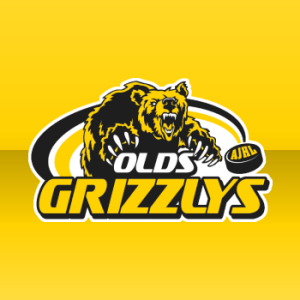 As Thanksgiving was being celebrated south of the border, US born blueliner Casey Rogers scored for the Grizzlys to force overtime. However, the Calgary Mustangs went on to beat Olds 4-3 in a shoot-out.

Some late 3rd period heroics helped the Olds Grizzlys pick up a point last night in a thrilling game versus the Mustangs.

With the goaltender pulled in favour of an extra attacker, Casey Rogers tied the game at 3 with just 26 seconds remaining in regulation time.

Dylan Hubbs and Spencer Dorowicz also scored for Olds during last night's game, while Brandon Thiessen made several spectacular glove saves among the 37 total shots that he turned aside in net.

Mustangs forward David Norris was the only player to register a goal in the shoot-out - his tally in the 4th round stood up as the winner after Jake Tamagi stopped the Grizzlys final shooter (Hubbs).

Simon Skrudland, Tanner Labelle & Connor Sutton netted the goals during regulation time for Calgary. Skruland opened the scoring at about the mid-way mark of the 1st period - it was the 10th consecutive time that the Grizzlys have given up the first goal of the game.

Rogers was named Olds' player of the game - in addition to the tying goal he also added one assist.


The 20 year old California product says he was inspired to play on the US Thanksgiving holiday

Rogers believes the OGs will finally end their 9 game winless slump (6 regulation losses, 2 shoot-out losses, 1 overtime defeat) tomorrow when they host Grand Prairie at 8pm.

Listen to last night's game in a minute by visiting our Grizzlys Den page.

http://www.ckfm.ca/sports/the-grizzlys-den/

Here is what Casey Rogers had to say following the game.