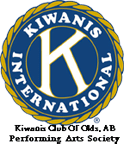 A record total was raised at this year's Olds Kiwanis Charity Auction.
Hugh Bodmer with the Kiwanis Club says last night (Thursday, November 22nd) at the legion bidders shelled out just over $12,600 dollars for some unique items.
$3600 dollars was also brought in thanks to last week's on-air auction on CKFM & ROCK 104 of a 2 week stay at a condo in Mexico, so Bodmer says their cumulative total for 2012 is more than $16,000 dollars.
According to Bodmer, some of the money raised will be used for upgrades to the Kiwanis playgrounds in Olds.