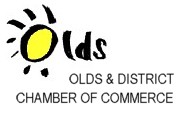 Small business week continues around the region.

Last night (October 18th) the Olds & District Chamber of Commerce held its 2012 Business Awards Recognition & Celebration at the Alumni Centre.

The business of the year in the 16 or more employees category was the Westview Co-Op.

Janalyn Bullock also from the Westview Co-op won Youth Employee of the Year.

Rips Audio Video & Spas won business of the year for 15 employees or less.

Olds Electric & Lighting was the Community Spirit winner, while the People's Choice award went to 360 Snow & Skate.

Lorna Samuel from A & W Restaurant was chosen as the Execptional Customer Service Award winner.

Coming up this evening it is Innisfail's turn.

The Innisfail Chamber of Commerce will hand out 12 awards at its gala tonight (October 19th) at the Legion.

Tomorrow the Didsbury Small Business Week Gala will be held in the Multi-Purpose Room of the Memorial Complex.