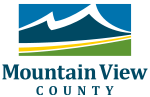 Stakeholders flocked to Mountain View County's first public hearing session for the Municipal Development Plan bylaw.
Mountain View County's public hearing for its Municipal Development Plan bylaw has been recessed until next Wednesday, July 4th.
Greg Brown with Brown & Associates spoke on behalf of the Netook Crossing developers yesterday in front of a packed gallery at the County office.
Brown voiced 4 fundamental concerns with the MDP and offered 2 options to County council regarding Netook.
Mayor Judy Dahl was asked if the town of Olds would be open to annexing in the Netook Crossing development.

A total of 28 speakers stepped to the podium to address concerns or state their approval for Mountain View County's MDP bylaw during the first public hearing session.