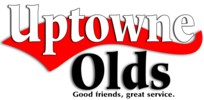 The countdown to Christmas is on as many merchants in the town of Olds will stay open late on Friday.
Countless shops & businesses in Olds are taking part in Midnight Madness this year.
On Friday community members are encouraged to shop through the night as many locations across town will be open until midnight.
Leon Durand with the Uptowne Olds Committee says Midnight Madness has been a popular tradition for many years.
Shoppers will be treated to free hot dogs & hot chocolate at many of the banks in town.
Friday will also kick off the annual Shop in Olds promotion.