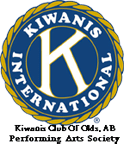 Another season for the Olds & District Kiwanis Club\'s concert series begins October 13th. Rankin Church & Crowe performs at 7:30 this Thursday at the Trans Canada Theatre in Olds.
Music lovers in Central Alberta are in for a treat as the Olds Kiwanis Concert Series kicks off this week.
Organizer Carol Johnston says that once again, their concert series will cover a wide range of genres.
March will feature Liona Boyd while April will see Hippodrome come to town.
The first show is on October 13th at the Trans Canada Theatre, where Rankin Church & Crowe will be playing at 7:30PM.

Tickets for single performances or for the entire season are available at the Mountain View Museum, or online at oldskiwanis.org/concert.htm.