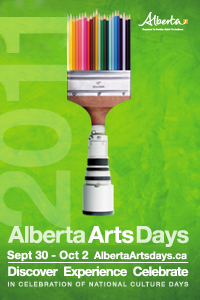 Saturday & Sunday include a full slate of events in the town of Didsbury as the Mountain View Arts Festival gives talented locals a chance to be a part of Alberta Arts Days.
The Mountain View Arts Festival kicks off this Saturday at noon in Didsbury.
This 2-day jam packed event will feature artists, street performers, buskers & much more at various locations around town.
Chairperson Kathleen Windsor says the whole town is very excited to be hosting this event during Alberta Arts Days.

The festivities start at noon on both Saturday & Sunday. Check out a full schedule of events at mountainviewartsfestival.com