Remembrance Day Services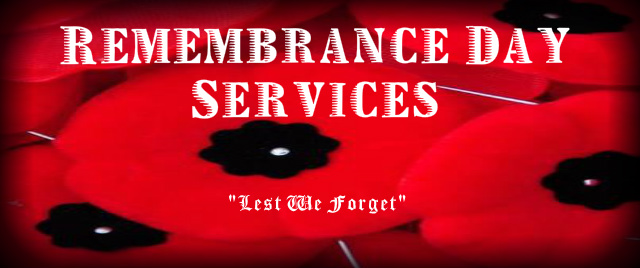 OLDS
The Remembrance Day Service in Olds will be held at the Ralph Klein Centre in the gym on Friday, November 11th. The parade will take place at 10:15 am with the service set to begin at 10:30 am. A wreath laying will be held at the Cenotaph in Centennial Park to follow. Everyone is welcome to attend. Join veterans and the community at the Royal Canadian Legion in Olds for lunch, following the service.
DIDSBURY
The Didsbury Army Cadets invite you to their Remembrance Day ceremony, held at the Zion Church, east of the hospital, in the valley. Doors open at 10:00 am and the Color Party will enter at 10:30 am. The service will follow the singing of "O Canada". Everyone is welcome. Donations will be accepted at the door to help the Cadets raise funds for the purchase of more wreaths for the annual Remembrance Day services. Following the service, everyone is invited to the Didsbury Elks Hall for lunch from 11:30 am to 1:30 pm. The Elks Hall is located downtown at 1914 20 Street.
SUNDRE
Remembrance Day services in Sundre will be held at the Sundre Legion Hall. The service will begin at 10:30 am. Come early to get seated before the ceremony starts.
INNISFAIL
The Innisfail Legion's annual Remembrance Day Memorial Service will begin at 9:45 am in the auditorium on November 11th. As in previous years, there will be a video relay to the Clubroom for those that are unable to be accommodated in the auditorium. At 10:45 am, community members are invited to assemble at the Cenotaph for a wreath laying ceremony and a two-minute silence at 11:00 am. Sandwiches and refreshments will be served at the Legion thereafter.
CARSTAIRS
The Carstairs Royal Canadian Legion Branch 53 Remembrance Day service is Friday, November 11th. Ceremonies will be held at the Community Hall and at the Cenotaph at Memorial Park. Doors open at 10:00 am, and the ceremony begins at 10:20 am. Lunch will be held at the Legion, following the service.